rFactor 2 – Le Mans Virtual Series 2021/2022 – SIMMSA Esports
SIMMSA Esports is taking part in the Le Mans Virtual Series!
Meet our drivers for the LMVS 2021/2022 season.
Andreas Schmich (Am) 🇩🇪
Armin Binder (Am) 🇩🇪
Sebastian Wunsch (Am) 🇩🇪
Gustas Grinbergas (Pro) 🇱🇹
Ramez Azzam (Pro) 🇨🇦
On our Pit Wall, we have our Race Engineer Andrew Streetley 🇬🇧.
Our vehicle is the Ferrari 488 GTE with our traditional number #66.

We are very proud to be part of this historic series!
Le Mans Virtual esports event will return as a series, includes 24-hour race finale
The 24 Hours of Le Mans Virtual was a breakout success in 2020, filling the gap vacated by the 24 Hours of Le Mans due to lockdown restrictions, reaching over 14.2 million viewers. Now, it is returning in an expanded form as the Le Mans Virtual Series.
Starting on 25th September 2021, the esports championship will be run by Motorsport Games in collaboration with the Automobile Club de l'Ouest (ACO) – organisers of the 24 Hours of Le Mans and promoter of the FIA World Endurance Championship (FIA WEC).
A five-round event run will cover Monza, Spa-Francorchamps, Nürburgring, Sebring and Circuit de la Sarthe. The first round is a four-hour race, followed by two six-hour and one eight-hour races, culminating in the full 24-hour race on 15th/16th January 2022.
The first four races in the Le Mans Virtual Series will be held online between September and December, with the 24 Hours of Le Mans Virtual taking place as the climax to the premier endurance esports championship.
The finale will be a live, televised event within the 2022 Autosport International motorsport show in Birmingham, UK on 15/16 January with 50% of the entire US$250,000 prize fund available for the 24 Hours of Le Mans Virtual standalone race.
LE MANS VIRTUAL SERIES 2021/22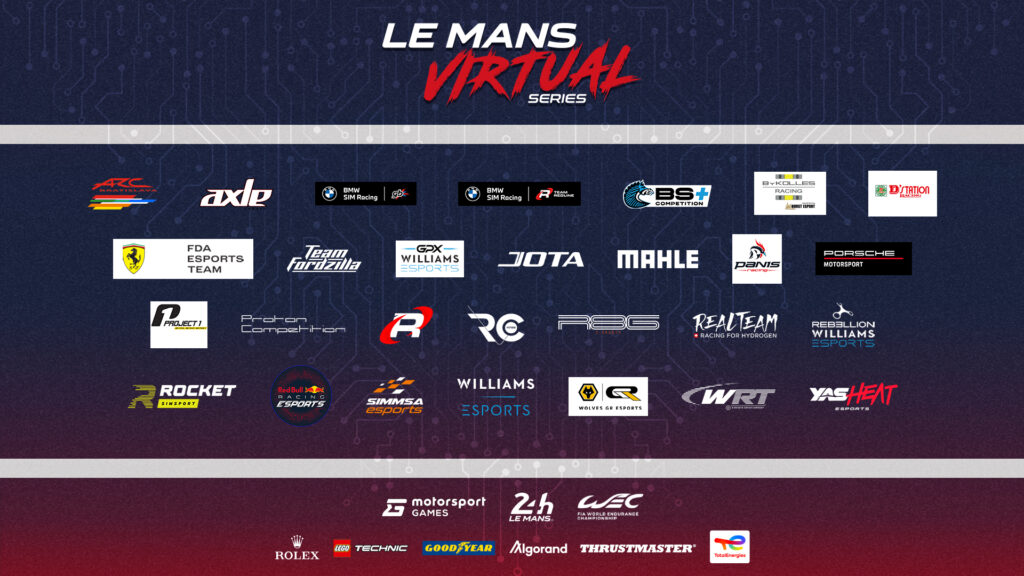 All races will be broadcast live online, and the 24 Hours of Le Mans Virtual taking place in person during the 2022 Autosport International show in Birmingham, U.K.
"Following the real 24 Hours of Le Mans in August 2021, we are delighted to now launch the Le Mans Virtual Series which will include as its highlight the 24 Hours of Le Mans Virtual. The link between real-life motorsport and esports is now an essential element for our manufacturers and teams, and we all look forward to an excellent season of esports competition" said Pierre Fillon, President of the ACO.
Participants will be racing for a share of a massive $250,000 prize pool, 50 per cent of which will be distributed for the 24-hour race results. Held using the rFactor 2 platform, 38 LMP and GTE full-season entries will feature, each car including five drivers combining FIA international-licensed drivers and professional sim drivers.
"This year, the event will further benefit the teams, partners and, of course, massive gaming and spectator audiences worldwide. We are extremely pleased to have secured the support of such an impressive portfolio of partners and we can't wait to get started this season with the reveal next week of some top-class names on the entry list," explained Motorsport Advisor to Motorsport Games, Gérard Neveu.
The partners of the series are Thrustmaster, Rolex, Total Energies, Goodyear, LEGO Technic and Algorand.
The full entry list will be revealed 7th September 2021 and every race will be live on our YouTube and Twitch channels, plus the Facebook page. Traxion.GG will be a media partner of the series, so expect news, race reports and exclusive content right here
On Tuesday, over 170 drivers were named for the 38 teams competing in the 2021-22 Le Mans Virtual Series season. The official roster lists 173 drivers with five drivers still to be named for a total of 178.
(PDF) click to open – The complete list of teams and drivers was announced.
You might see many familiar names across all forms of motorsports and esports on the final list. Each team includes at least two FIA-graded drivers or of equivalent standard, and the remaining seats will be filled by some of the best sim drivers from multiple disciplines of virtual racing.
Forms of motorsports that are represented in the field include Formula 1, WEC, IndyCar, IMSA, Formula 2 and 3, Formula E and Extreme E and GT World Challenge, among others. Familiar names on the list include 2009 F1 Champion Jenson Button, NTT IndyCar Series drivers Alex Palou and Felix Rosenqvist, Beitske Visser from the W Series and the WEC, and many more drivers from all over the map.
Paint schemes were revealed over the weekend.
Plenty of sim racing talents inhabit the roster, including Michi Hoyer, Bono Huis, Jan von der Heyde, Joshua Rogers and Kevin Siggy. With so many teams and so many drivers, there were a few guidelines that needed to be followed to get their final roster.
From the press release:
Teams must submit a full-season roster of 4 or 5 drivers.
A minimum of 2 drivers must be FIA graded (or its equivalent).
The remaining drivers are sim drivers.
For each of the first 4 online rounds, teams will nominate 3 drivers from their full season roster 7 days before each race. Of these, one must be an FIA-graded driver (or its equivalent).
For the 24 Hours of Le Mans Virtual finale – scheduled to be held January 15th and 16th, 2022 in Birmingham, UK at the 2022 Autosport International motorsport show – line-ups will increase to 4 drivers per entry with a minimum of 2 FIA-graded drivers (or its equivalent). An additional 20 entries are expected for the live, televised event, with some of the most well-known motorsport names in the world due to appear.
SIMMSA Esports, Ferrari 488 GTE, #66: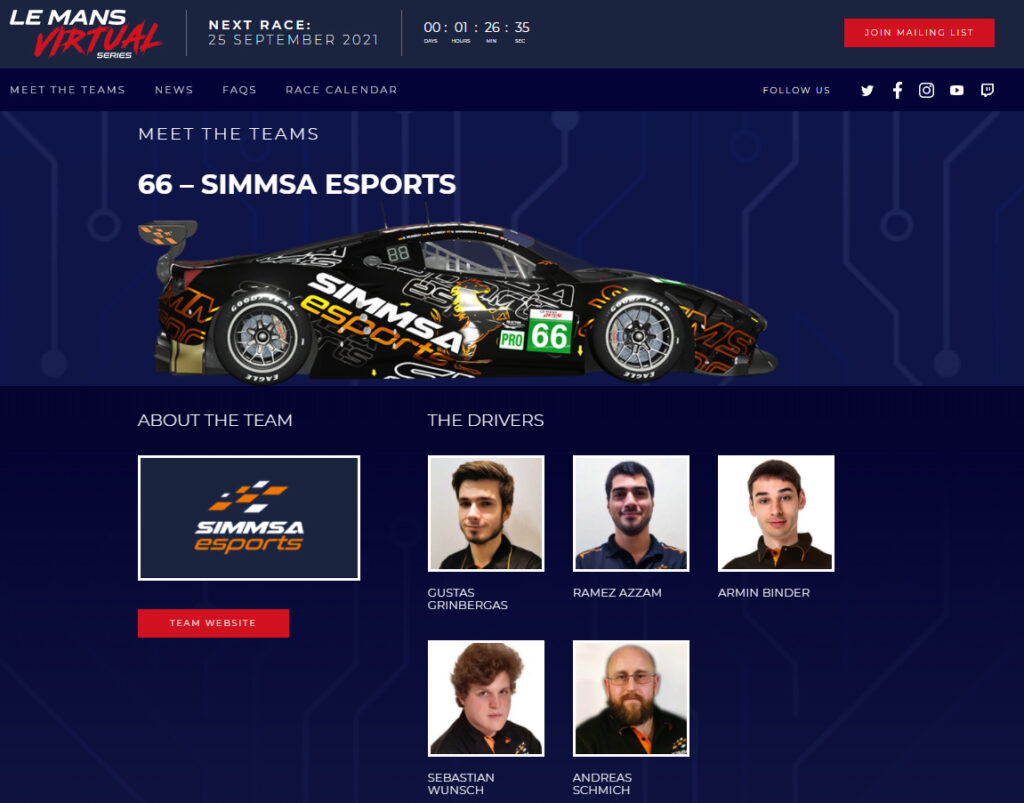 (PDF) click to open – The full list of teams that were announced last week.
These guidelines are provisioned in a way to allow for the replacement of FIA-graded drivers if needed due to schedule uncertainty. The entry list for Monza on 25th September should be available within the week of the race.
So many big names. Who are you most excited to see racing in this virtual season? Will you be trying your hand in the Le Mans Virtual Cup to race alongside these giants in the main event? Let us know! If you can't read the graphic above, no worries as we've transcribed it below as well.
LE MANS VIRTUAL SERIES 2021/22 CALENDAR
Round 1 – 4 Hours of Monza, Italy – 25th September 2021
Round 2 – 6 Hours of Spa, Belgium – 16th October 2021
Round 3 – 8 Hours of Nürburgring Nordschleife, Germany – 13th November 2021
Round 4 – 6 Hours of Sebring, USA – 18th December 2021
Round 5 – 24 Hours of Le Mans Virtual – 15th/16th January 2022