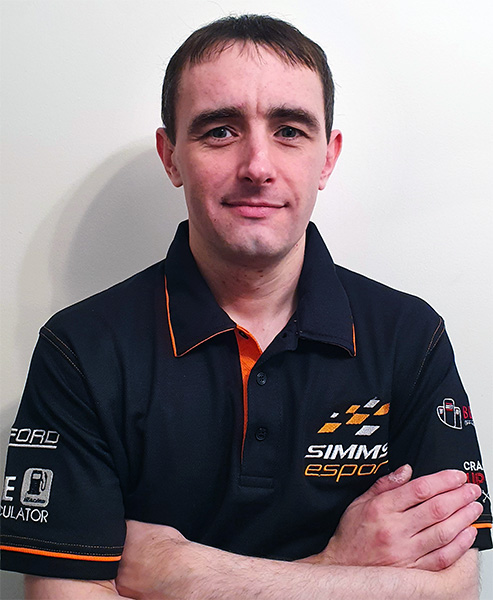 Nickname: Baz
Birthdate: 30th June 1984
Nationality: Scottish
Residence: Scotland
Hobbies: Music, Football, Cycling and vehicle maintenance
Racing Hero: Michael Schumacher
Sim titles: iRacing (iR)
Barry was born on June 30, 1984 and is from Scotland.
Barry is currently working as an engraver/CNC operator. His first racing game was probably Super Monaco GP and he has loved driving them ever since. The first sim title he got into was GTR series, rFactor and Assetto Corsa.
He discovered iRacing late 2016 and has been driving there ever since. Barry started out driving the Skip Barber and became good enough to join the Skip Barber 2K Cup, where I scored some solid results. He then switched to GT cars as he enjoys the endurance side of racing these cars. The GT cars really seemed to click for him and he managed to win the iRacing Le Mans series in Season 2 2018 while making his way up to 6k iRating.
He recently has been competing in the Sports Car Open and NEO Endurance series, which are some of the very best iRacing championships available. Successfully racing and getting results against the very best drivers iRacing has to offer.
He describes his driving style as hard but fair and he likes to fight for positions but not if it is to the detriment of my race where he would rather sit back and save fuel, tires and play the long game.
2018, 18S2, overall Champion, iRacing Le Mans Series (iRLMS)
2018, 18S4, 3rd overall, iRacing Le Mans Series (iRLMS)
CASE: Cooler Master Q500L
CPU: 3800X
MOBO: ASUS PRIME X570-P
RAM: Corsair
GPU: Nvidia 2080 Super

PSU: Corsair 750W
SSD: 1TB Samsung 970 Evo M.2 NVMe
SSD: Kingston 500GB, Scandisk 500GB
HDD:
OS: Windows 10

DISPLAY: 32″
VR DISPLAY: Rift S

HEADSET: Steelseries Siberia 350

SimRig: Simlab GT2 Rig

Seat: Simlab GT2 Rig
Wheelbase: OSW small MiGE

Steering Wheel: USB converted Fanatec BMW and F1 rims

Pedals: Heusinkveld Pro Pedals
Shifter: Thrustmaster TH8A

Handbrake: Virple Joystick

Other: n/a
Extras: n/a