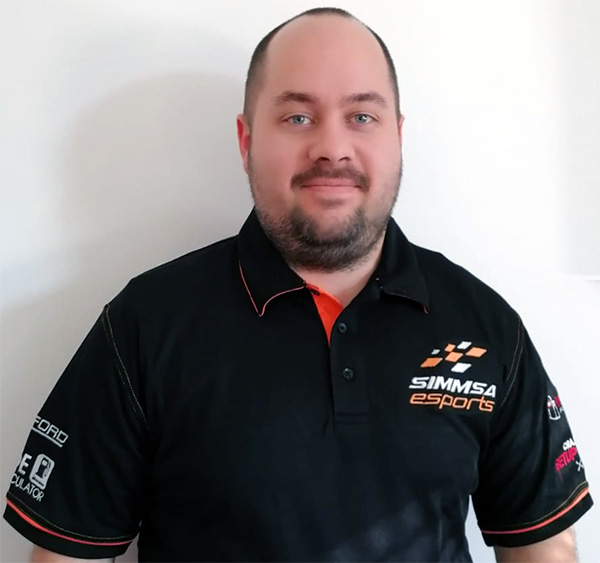 Nickname: Jingleling
Birthdate: 13th November 1989
Nationality: German
Residence: North Rhine-Westphalia, Germany
Hobbies: SimRacing, Motorsports, painting and building PC's (PC hardware in general)
Racing Hero: Jeff Gordon
Sim titles: iRacing (iR) and Assetto Corsa Competizione (ACC)
Burkhard started karting at the age of 5. First on site with a baby go-kart, later at the age of 6 he had his first race at a local karting track. At the Age of 8 he started driving at the Bambini Class A and got his first title in 1999 in the Bambini A Class.
From there he moved on to the junior class with his first attempt at the European Championship 2003 in Portugal. No titles won but the first international competitions are school for life.
At the end in 2003 he made his debut at the 100ccm senior class with winning his first national race, the Graf Berghe von Trips Memorial which is held to honor Mr. von Trips as a result of his fatal crash in Monza.
He won the Jörg van Ommen Championship in 2005 and had his first seat time in a Formula Renault 2.0.
In 2006 he switched back to his manufacturer of choice where it all started. Birel and got manufacturer status pretty fast with a very good opener round of the Tropheo Andrea Margutti finishing 2nd behind Marco Wittmann and winning the race the year after. This is where his attention grew to scouts and he had some pretty decent finishes in the Italian Championship throughout the seasons of 2006 and 2007 which led into a partnership with Eifelland Racing (first team of Vettel in the Formula BMW) in the Formula ADAC Masters, now known as Formula 4.
Formula 4 Series Stats
2008, 7th in championship standings, double win Nürburgring, 3x top5 finishes, 7x top10 finishes
2009, 6th in championship standings, 10 of 16 series races, 1x win at Oschersleben, 7x top5 finishes, 2x DNF's
End of active career due to lack of financial support and sponsors.
Beside his driving career, he works as a Sales Manager.
2008-2009, ADAC Formula Masters (now known as Formula 4)
2006-2007, World Kart Championship
2003-2007, European Kart Championship
2003-2007, Italian Kart Championship
1997-2007, German Kart Championship
CASE: LianLi Dynamic O11 XL by Der8auer
CPU: Intel i7-7800X
MOBO: ASUS ROG Rampage VI Extreme Omega X299
RAM: Corsair Dominator 32GB (8x4GB) DDR4 2666MHz
GPU: Gigabyte Gaming OC GeForce RTX 2080 Ti 11GB
PSU: Corsair RM1000x 1000W 80+ Gold
SSD: 1x Samsung 960 PRO NVMe M.2 512GB
SSD: 1x Samsung 860 EVO Series 2.5″ 500GB
HDD: n/a
OS: Windows 10 Pro 64-Bit
DISPLAY: 1x Asus ROG Swift PG278, 27", 2560×1440, 144Hz, G-SYNC
DISPLAY: n/a
HEADSET: : Logitech G 430
SimRig: Motedis Simracing Rig S-Dream
Seat: n/a
Wheelbase: Simagic M10 w/ Q1R
Steering Wheel: Fanatec ClubSport Formula Black w/ Ascher Racing shifters and Q1R
Pedals: Heusinkveld Sim Pedals Sprint (3 pedal set)
Shifter: n/a
Handbrake: n/a
Other: n/a

Extras: Oculus Rift VR Headset