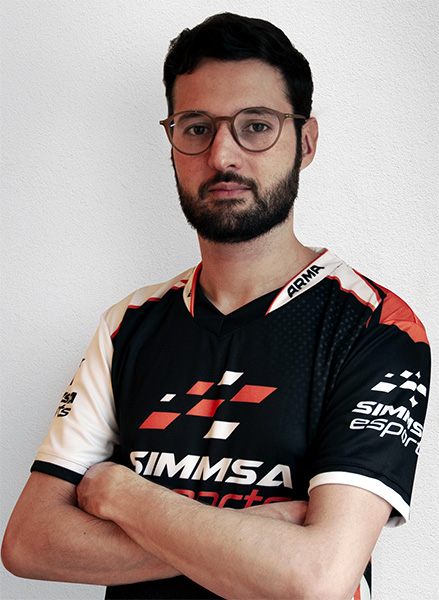 Nickname:
Birthdate: 30th December 1987
Nationality: Brazilian
Residence: USA
Hobbies:
Racing Hero:
Sim titles: iRacing (iR)
Diego was born on December 30, 1987 and is from Brazil.
Like all Brazilians that lived in the 90's he started watching F1 with great admiration for Ayrton Senna and other Brazilian drivers. With great support from his family he evolved the love for motorsport and competed in go-karts from the age of 12 to 16 winning some titles in Brazil.
He moved to the US for work in 2015 and nowadays works as a designer living in California. The passion for the sport never stopped and in 2018 he started with SimRacing where he has been evolving and learning as a SimRacing driver.
2020 S4, 2nd place Championship, PRL GT3 Sprint Series with Audi R8 LMS GT3
2020 S3, Championship Winner, PRL GT4 Clubsport Series with Porsche 718 Cayman GT4 Clubsport
CASE: n/a
CPU: n/a
MOBO: n/a
RAM: n/a
GPU: n/a
PSU: n/a
SSD: n/a
SSD: n/a
HDD: n/a
OS: n/a
DISPLAY: 43″ TV
DISPLAY: n/a
HEADSET: n/a
SimRig: SimLab GT1-EVO
Seat: NRG
Wheelbase: Fanatec CSL Elite
Steering Wheel: Fanatec ClubSport Formula 1 Esports
Pedals: Heusinkveld Sim Pedals Sprint (3 pedal set)
Shifter: n/a
Handbrake: n/a
Other: n/a
Extras: n/a