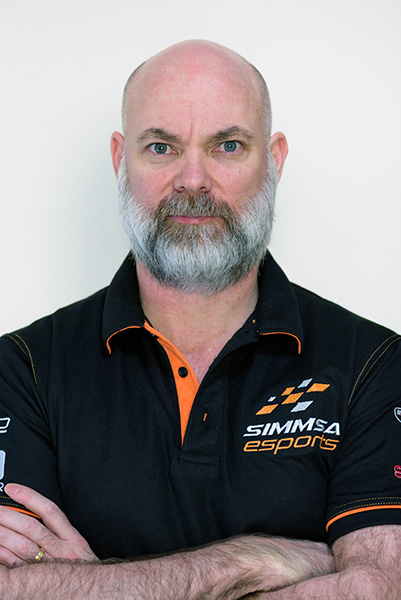 Nickname:
Birthdate: 05th May 1972
Nationality: Kiwi
Residence: Dubai, UAE
Hobbies: Photography, Golf and Skiing
Racing Hero: Bruce McLaren
Sim titles: Automobilista 2 (AMS2), Assetto Corsa Competizione (ACC), iRacing (iR) and rFactor 2 (rF2)
Grant was born on May 5, 1972 in Auckland, New Zealand and has lived in New Zealand, Australia and now Dubai, United Arab Emirates for the past 14 years.
Like most keen gamers and motorsport fans he started SimRacing on a console with a Logitech wheel and pedals bolted to a table racing some of the early F1, Grand Turismo and Rally titles. He progressively upgraded his SimRacing hardware to a Playseat and continued racing on consoles for many years until he discovered iRacing in 2015. Once he discovered iRacing it was time to get serious with the upgrades, so he went from Logitech wheels and pedals to all Fanatec gear, custom gaming PC and Obutto Revolution rig.
Since meeting Peter Klawitter (team founder) he has since upgraded to an aluminium profile SimRig with an OSW direct drive, custom made steering wheels, Heusinkveld Ultimate pedals and he uses VR for the ultimate immersion experience.
He has a fully modified track ready Chevrolet CR8 (Holden Clubsport R8) which he takes to the track from time to time but due to it being expensive to maintain he prefers SimRacing. He is a keen motorsport fan and follow the V8 Supercars in Australia and he has done numerous track days and experiences in New Zealand and in the United Arab Emirates.
Completed 3

Dubai Karting 24h Endurance races

Fastest lap in a Suzuki Swift at Highlands Park Raceway for "My Lap"
Currently hold the world record lap time in a Corvette DP7 at Mount Panorama in iRacing,
2018, Winnner of Fanatec GT Challenge Division 3, Season 2 (iRacing)
CASE: Thermaltake Core V51
CPU: Intel i9-9900K
MOBO: MSI MPG Z390 Gaming Pro Carbon AC
RAM: Corsair Dominator Platinum DDR4 32GB (4x8GB)
GPU: AORUS GeForce RTX 2080 Ti XTREME
PSU: Corsair CX Series CX850M (850W)
SSD: Crucial BX100 250GB
SSD: n/a
HDD: Seagate Desktop ST200DM001 1TB
OS: Windows 10 Pro 64-bit
DISPLAY: Samsung CHG90, 49", 3840×1080, 144Hz, FreeSync2
DISPLAY: LG 27MP89, 27″, 1920×1080, IPS
VR: PIMAX 5k Plus
HEADSET: n/a
SimRig: SIMMSA SimRig
Seat: OMP Design 2 Seat
Wheelbase: SimQuip.NET OSW (MiGE 130ST-M10010) w/ Q1R
Steering Wheel: FiTECH Porsche RSR and converted Fanatec Formula v1
Pedals: Heusinkveld Sim Pedals Ultimate (3 pedal set)
Shifter: Fanatec ClubSport Shifter SQ v1.5
Handbrake: n/a
Other: n/a
Extras: Transducer(s): SimVibe Extended Mode
2x ButtKicker mini LFE
1x the t.amp (Thomann) E-400