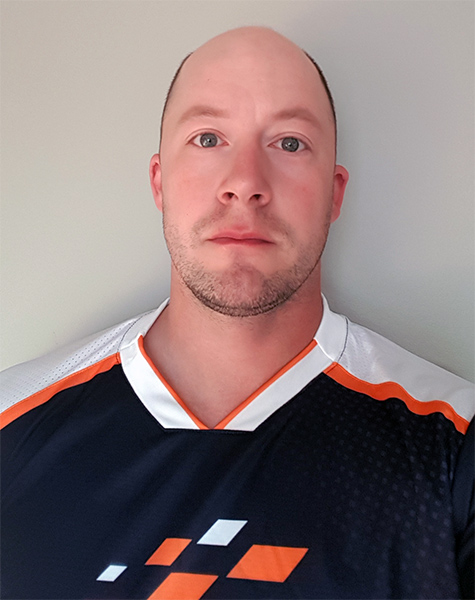 Nickname: My name Jeff!!
Birthdate: 13th September 1988
Nationality: Canadian
Residence: Medicine Hat, Alberta
Hobbies: Bicycling, Weight lifting and Sim racing
Racing Hero: Shane van Gisbergen
Sim titles: iRacing (iR)
Born in Edmonton AB Sept.23,1988, and is from Canada. Jeff has been working as a mechanic at Toyota for the past 11 years and Nissan for 3 years now. His first racing game was NASCAR 1999 on the PlayStation.
After having knee surgery and not being able to walk for 4 months he discovered iRacing, also his first Sim title and the only title he has been racing on since 2013.
Started out driving Mazda Miata and Skip Barber, mixed with a lot of NASCAR and other oval races as well. Then after some time he switched to GT racing and only raced GTE's for about 2 or 3 years and really enjoy the long endurance races. The best finish being in 2018 on P2, at the 12H of Sebring in the top split behind Pure Racing Team (PRT).
He has recently come back to iRacing from a almost 2 year break due to personal reasons and trying to get back up to speed. He describes his driving style as hard and fair, likes to keep the pressure on and be a pest in the mirror to try and force others into mistakes.
Jeff has been racing with SIMMSA Esports since January 2021.
2022, P2 overall, Special Event, Daytona 24, iRacing, Dallara P217 LMP2 (split2, timeslot 12:00PM GMT)
2019, P3, Daytona 24H, iRacing (split2)
2018, Driver for Radicals Online
2018, P2, Sebring 12H, iRacing (top split)
2018, P2, Daytona 24H, iRacing (split2)
2017, Champion, CMS Ricmotech Challenge, iRacing, GTE
2017, Champion, Autobahn iRacing Series, Season 6, GTLM
CASE: Phanteks Eclipse P600S black TG
CPU: Ryzen 5 5600X
MOBO: Asus ROG Strix B550-F Gaming
RAM: Corsair Dominator 32GB (2x16GB) DDR4 3200MHz
GPU: GeForce RTX 3090
PSU: Corsair AX1000 1000W 80 PLUS Titanium Certified Fully Modular ATX
SSD: 1x Samsung 960 Pro NVMe M.2 1TB
SSD: n/a
HDD: n/a
OS: Windows 10 Pro 64-Bit
DISPLAY: 3x LG 27GL850, 27", 2560×1440, 144Hz, G-SYNC
DISPLAY: n/a
HEADSET: Astro A40
IN-EAR: n/a
MIC: n/a
SimRig: Trak Racer TR160
Seat: Sparco
Wheelbase: Simucube 1 (OSW) w/ Q1R
Steering Wheel: Sam Maxwell Customs (SMC) custom built GT wheel w/ integrated display
Pedals: Heusinkveld Sim Pedals Ultimate (3 pedal set)
Shifter: n/a
Handbrake: n/a
Other: n/a
Extras: n/a