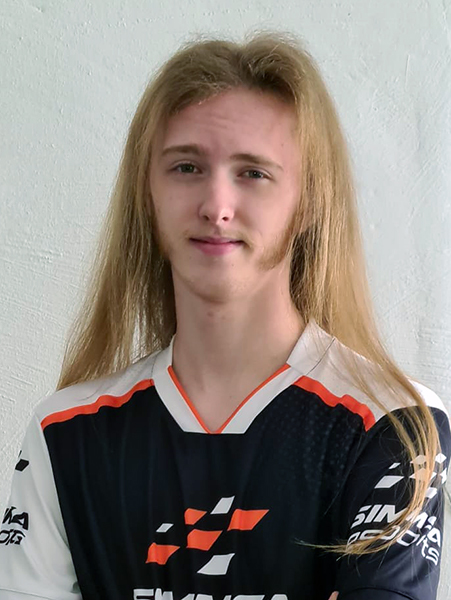 Nickname: HirnKrampf
Birthdate: 9th January 2002
Nationality: German
Residence: Gotha, Germany
Hobbies: SimRacing and Karting
Racing Hero: Lewis Hamilton
Sim titles: iRacing (iR) and rFactor 2 (rF2)
Kevin was born on January 9th, 2002 in Gotha.
He grew up as a son of a big motorsports fan and had his first contact with racing early on. At the age of 3, he had his first impressions of "SimRacing" when his father was playing "Geoff Crammonds Grand Prix 4".
Kevin started his own SimRacing career in late 2016 on rFactor, and went on to rFactor 2 in the following year.
After about 2 years of racing Formula cars in the Virtual Formula Championship (VFC) and winning the constructors Championship once, he was looking for a more competition and found it on iRacing. Since then he has been racing on the iRacing service.
2021, P3, Special Event, iRacing, 6H of The Glen, BMW M4 GT3 (split 3, timeslot 12:00PM GMT)
2021, P2, Special Event, iRacing, 24H Nürburgring, GT3 (top split, timeslot 06:00PM)
2020, P2, Special Event, iRacing, 12H of Sebring, GTE (split 8)
2019, P3, Special Event, iRacing, 24H of Le Mans, LMP1 (split 3)
2019, rFactor 2, Winner Constructors Championship, Virtual Formula Championship
CASE: n/a
CPU: n/a
MOBO: n/a
RAM: n/a
GPU: n/a
PSU: n/a
SSD: n/a
SSD: n/a
HDD: n/a
OS: n/a
DISPLAY: 1x Samsung CRG9, 49″, 5120×1440, 32:9, 120Hz
DISPLAY: n/a
HEADSET: Beyerdynamic MMX 300
IN-EAR: n/a
MIC: n/a
SimRig: Simlab GT1-EVO
Seat: Simlab SPEED3
Wheelbase: Simucube 2 (SC2) Pro
Steering Wheel: Ascher Racing F28-SC V1
Pedals: Heusinkveld Sim Pedals Sprint (3 pedal set)
Shifter: n/a
Handbrake: n/a
Other: n/a
Extras: n/a