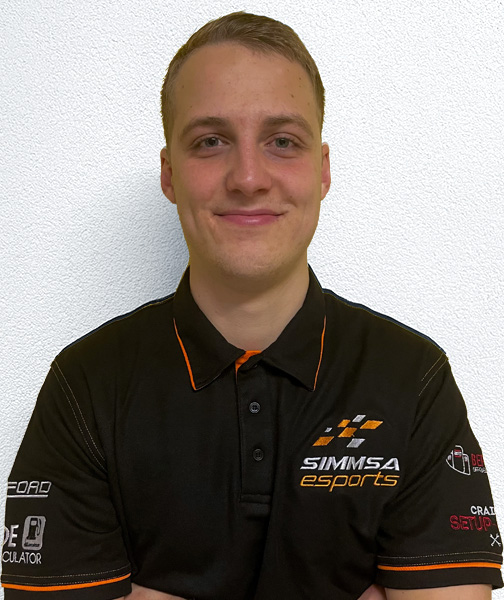 Nickname:
Birthdate: 08th February 1999
Nationality: German
Residence: OG-City, Germany
Hobbies: Motorsport and SimRacing
Racing Hero: Ayrton Senna
Sim titles: iRacing (iR), rFactor 2 (rF2) and Assetto Corsa Competizione (ACC)
Luca was born on February 8, 1999 and lives in the South of Germany.
Back in 2006 Luca got hooked with his passion for Motorsports by watching F1 every weekend. He got his first virtual racing experience by playing F1 1999 on a PS1 of his uncle. From that time onwards he played different racing games on PS2 and on Xbox 360/ Xbox One such as Gran Turismo, Forza Motorsport, multiple Codemasters F1 games and Assetto Corsa.
Then in 2018 he started with RaceRoom and registered in the Rookie Cup organized by RRVGT. After a year racing on RaceRoom he switched to iRacing with his team mates of FTN. The switch wasn't difficult as they wanted more realistic challenges in SimRacing. The main goal is to compete in Endurance series and championships.
In 2012 Luca started to compete in different local ADAC small karting series until 2019. After racing a long time also in the local ADAC slalom series he had then had a chance to get a seat in a BMW E36 328i built by Dinger Motorsport to compete in the national VFV-GLPpro series.
2018, 3rd place, RRVGT Rookie Cup, BMW M235i Racing
2018, 1st place, RRVGT-WEC, NA and AUS Tour, FTN, BMW M235i Racing
2018/ 2019, 9th place, RRVGT3, FTN
2018 1st place, BMW M235i Racing class RRVLN, Division 2
2019/ 2020, 7th place, GSR Masters, AM
CASE: Corsair Crystal Series 460X RGB
CPU: AMD Ryzen 5 1600X
MOBO: Asus Prime X370-Pro
RAM: 16GB Samsung
GPU: Zotac Geforce 980Ti AMP Extreme
PSU: BeQuiet Pure Power 10 500
SSD: 250GB Adata SSD
SSD: n/a
HDD: 1TB WD Elements Blue
OS: Windows 10 Pro 64-Bit
DISPLAY: Asus MG-28UQ
DISPLAY: DIY SimHub Dashboard
HEADSET: HyperX Cloud 2
SimRig: own built SimRig
Seat: non branded eBay seat
Wheelbase: Fanatec ClubSport V2.5
Steering Wheel: Fanatec ClubSport Formula V2
Pedals: Fanatec ClubSport Pedals V3 w/ Brake Perfomance Kit
Shifter: n/a
Handbrake: n/a
Other: DIY built dashboard and rev-lights
Extras: n/a