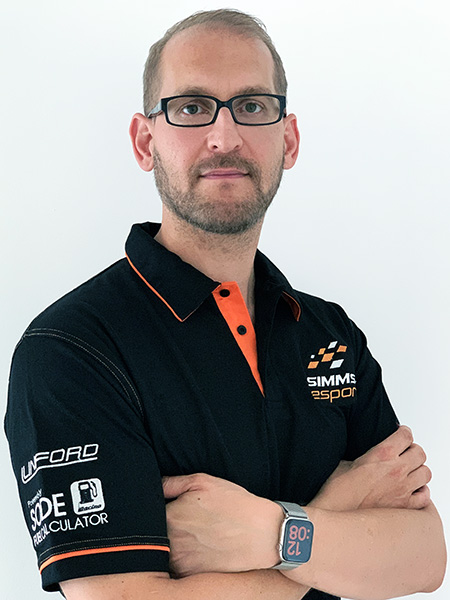 Nickname: rocafella
Birthdate: 8th June 1978
Nationality: German
Residence: Dubai, UAE
Hobbies: Bicycling, swimming, R/C cars, down range/ tactical activities
Racing Hero: Michael Schumacher
Sim titles: iR, AC, ACC, rF1, rF2, R3E, AMS1, AMS2, LFS, pCARS (series), Gran Turismo (series) and FM (series)
Peter was born on June 8, 1978 and is from Germany.
"rocafella" got his nickname back in the 1999 playing Counter-Strike, and stuck with him throughout all the online gaming and Esports activities. He has done many things throughout his life, currently is an entrepreneur and a home staying father. In 2017 he got his FIA Competition License (Race National) and is working towards getting his Race International License.
In 2015, he started SIMMSA, along with ISR (Impact SimRacing) which was the initial name for the virtual racing team before it became SIMMSA Esports.
When he moved back in 2016 to the Middle East with his family, he started researching possibilities for a SimRacing platform to help grow and promote SimRacing and Motorsports in the MENA region. Shortly after he met Jamal Ghandour (SRME), with both having the same goals for the region, they joined forces as SIMMSA to grow and promote SimRacing. Their positive engagements, hard work and promoting SimRacing led to SIMMSA being contracted for the McLaren Shadow Project 2018 and 2019 in MENA (Middle East & North Africa). SIMMSA also provides consulting services to organizing SimRacing events & venues, building racing simulators, multiple other projects like managing SimRacing teams and drivers.
In 2019 SIMMSA Esports was formed absorbing Simplex Racing and other additional drivers joining our team, to effectively and competitively race in the various SimRacing titles and also having the possibility as a team to expand into other Esports genres.
Peter describes himself as a respectful, clean and consistent race driver. He is fluent in English, German, Armenian and Farsi.
2020, 2nd, 24H Daytona, iRacing, GTE
2019, Winner, 6 Hours of the Glen, iRacing, GTE
CASE: Phanteks Eclipse P600S black TG
CPU: Intel Core i9-9900K
MOBO: Gigabyte Z390 Aorus Pro
RAM: G.Skill Ripjaws V Series 32GB (16GBx2) DDR4 3200MHz
GPU: Asus TUF Gaming GeForce RTX 3080 OC Edition 10GB
PSU: EVGA SuperNOVA 850 P2 850W 80+ PLATINUM
SSD: 1x Samsung 960 Pro NVMe M.2 1TB
SSD: 2x Samsung 860 Evo 2.5″ 500GB
HDD: n/a
OS: Windows 10 Pro 64-Bit
DISPLAY: 3x Asus ROG Swift PG279Q, 27", 2560×1440, 144Hz, IPS, G-SYNC
DISPLAY: 1x BenQ Zowie GL2450-B, 24", 1920×1080, 75Hz and 1x Elecrow 10.1″, 1920×1080, 60Hz, IPS
HEADSET: Audio-Technica ATH-ADG1X
IN-EAR: Linsoul KZ ZSX 5BA+1DD
MIC: RODE PodMic and Antlion Audio ModMic GDL-1420 UNI
SimRig: SIMMSA SimRig
Seat: MOMO Daytona
Wheelbase: Simucube 2 (SC2) Pro w/ Q1R
Steering Wheel: various custom built steering wheels
Pedals: Heusinkveld Sim Pedals Ultimate w/ Upgrade Kit (3 pedal set)
Shifter: Heusinkveld Sim Shifter Sequential
Handbrake: Heusinkveld Sim Handbrake
Other: DSD Track Boss BB, DSD P1 BB, Apex Sim Racing Race Deck BB, DIY DDU
Extras: Elgato Stream Deck, Elgato Stream Deck XL, SRS WindSim, Logitech Z906