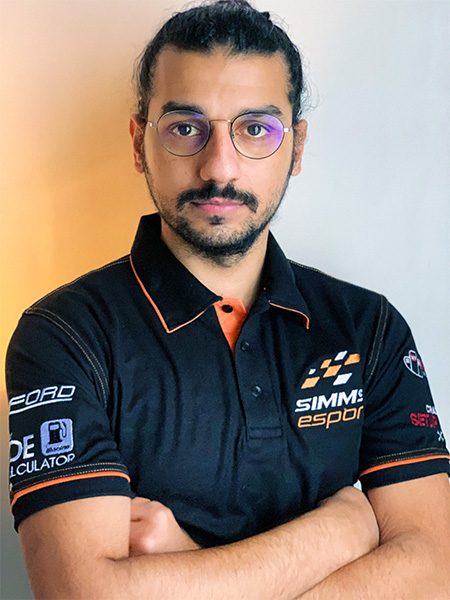 Riyane El Mouslih, iRacing
Nickname:
Birthdate: 30th April 1990
Nationality: Morrocan
Residence: Paris, France
Hobbies: Karting and track days
Racing Hero: Niki Lauda and Fernando Alonso
Sim titles: iRacing (iR)
Riyane was born on April 30, 1990 and is from Morocco.
He is an IT consultant and started racing games in 2001 on Gran Turismo 2. He bought his first wheelbase in 2015 for Forza Motorsport 6. That led him to use his laptop and try other SimRacing titles; he liked it so much that he decided to build a dedicated PC for his SimRacing passion. In 2017 he joined Sim Racing Middle East (SRME) which is the largest SimRacing community in the MENA region, thanks to Jamal Ghandour and Haitham Abdelkader.
Riyane races endurances races with his karting team whenever possible and goes to track days with his karting teammates when possible.
2016, Regional participation in Nissan GT Academy North Africa
2018, Finalist in McLaren Shadow Project MENA
CASE: NZXT CA-S340W-B4
CPU: Intel i5-8600K
MOBO: MSI Z370-A PRO
RAM: 32GB HyperX Predator (4x8GB) DDR4, 3200Mhz, CL16
GPU: MSI Geforce RTX 3080 Ventus 3X OC 10GB DDR6
PSU: NZXT C850 NP-C850M-EU 80+ Gold
SSD: 1TB SanDisk Extreme PRO 3D M.2 NVMe
SSD: 500GB Samsung SSD 850 EVO
HDD: 1TB 7200rpm
OS: Windows 10 Pro 64-Bit
DISPLAY: 1x ACER QG221Qbii, 21.5″, 1920×1080, 75Hz, FreeSync
VR HEADSET: Pimax 5K Plus
HEADSET: Logitech G430 7.1
SimRig: DIY aluminium profile SimRig
Seat: Sparco Ergo II
Wheelbase: Thrustmaster TX
Steering Wheel: Sparco P310
Pedals: ProtoSimtech PT2
Shifter: Thrustmaster TH8A
Handbrake: n/a
Other: DIY USB BB
Extras: DIY pedal rumble kit