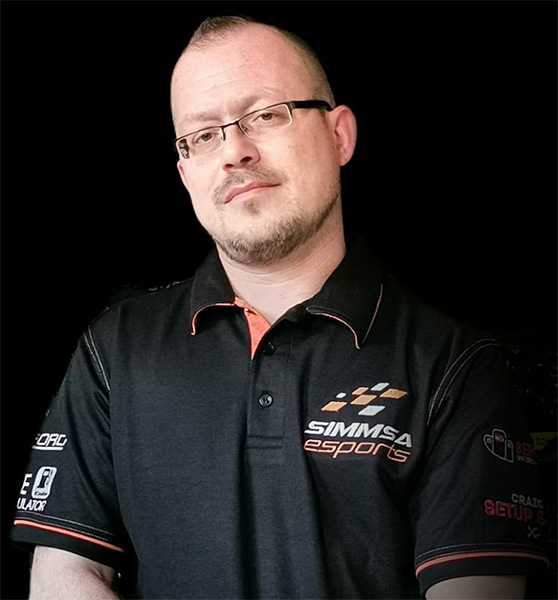 Nickname:
Birthdate: 3rd February 1980
Nationality: German
Residence: Rüsselsheim, Germany
Hobbies:
Racing Hero: Walter Röhrl, Michael Schumacher and Nicki Lauda
Sim titles: iRacing (iR) and DiRT
Sacha was born on February 03, 1980 and is from Germany.
He has always been interested in motorsport, be it in his youth with autocross and stock car or later racing his own car at few hill climb events.
Circumstances led to not being able to continue this further and Sacha found a new hobby, which was RC cars. Unfortunately he couldn't pursue this hobby, because of his eye sight and an alternative hobby had to be found. A friend played Assetto Corsa on the console, which then brought him to SimRacing. First on the console, then moved to the PC and joined his first team.
He spent 2.5 years there and now joined SIMMSA Esport. He is looking forward to his new journey and successfully race with his new team members.
2020, P3 in Championship, DENSU ECS 2020, GTE PRO class
2nd, 24h Nordschleife (Assetto Corsa)
5th, 24h Nordschleife (iRacing)
17th, SRD DGTM (iRacing)
CASE: BeQuiet Silent Base 601
CPU: Intel i7-9700K
MOBO: MSI Z390 Gaming Pro Carbon
RAM: 32GB (4x8GB) G.Skill Trident Z RGB DDR4-3000
GPU: MSI GeForce RTX 2080 Ti Gaming X Trio 11GB
PSU: 750W be quiet! Straight Power 11 Modular 80+ Gold
SSD: 1x 1TB Patriot Viper VPN100 M.2
SSD: n/a
HDD: n/a
OS: Windows 10 Pro 64-Bit
DISPLAY: 3x AOC CQ32G1, 31.5″, 2560×1440, 144Hz, FreeSync
DISPLAY: n/a
HEADSET: Corsair CA-9011150 VOID PRO Wireless 7.1
SimRig: DIY aluminium profile SimRig
Seat: MOMO Daytona Evo
Wheelbase: Simucube 1 w/ MiGE 130ST-M10010
Steering Wheel: SimLine Porsche Cup
Pedals: Heusinkveld Sim Pedals Sprint (3 pedal set)
Shifter: n/a
Handbrake: Heusinkveld Sim Handbrake
Other: Audi TT air jets, ventilation, SimRig with roof and side panels
Extras: 7″ HDMI DIY DDU and Simracing4you BB