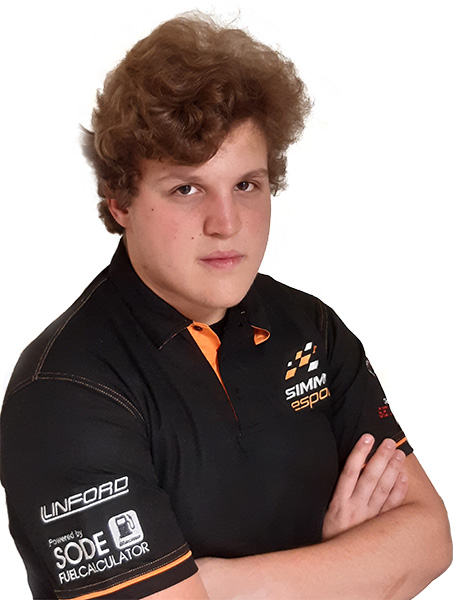 Sebastian Wunsch, rFactor 2
Nickname: Seppel
Birthdate: 22nd October 2000
Nationality: German
Residence: Germany
Hobbies: racing in general and working for the DLRG
Racing Hero: Sebastian Vettel
Sim titles: rFactor 2 (rF2)
Sebastian was born on October 22, 2000 and is from Germany. He is studying to be a teacher in mathematics and chemistry.
Has been SimRacing since the beginning of 2015 (pCARS, F1 2015, DiRT Rally). His SimRacing passion lies with rFactor 2 and he is a specialist in our team for vehicle setups.
Also works as a lifeguard at the DLRG (German Life Saving Association/ Deutsche Lebens-Rettungs-Gesellschaft).
2022, 11th GTE class, Le Mans Virtual Series (LMVS) 2021-2022, rF2, Ferrari 488 GTE
2021, Overall Winner, rF2LN Season 2020/21, rF2, Porsche 911 GT3 Cup
2021, Cup2 Class Winner, rF2LN Special Event, 24H Nürburgring, Cup2 Class, rF2, Porsche 911 GT3 Cup
2018, activities, RaceRoom GT3 2018, WTCR 2018, DTM 92, DTM 2016 all powered by VSR (Virtual Sim Racing)
2019, P3, GTR4U Porsche Cup, Season 2019, rF2, Porsche 911 GT3 Cup
2017, activities, F1 2017, k.rc F1 2017 by VSR (Virtual Sim Racing)
2016, activities, F1 2016, by VSR (Virtual Sim Racing)
2016, activities, Project CARS 1, GT3, Racing Universe League Season 2
2015, activities, Project CARS 1, GT3, Racing Universe League Season 1
CASE: Phanteks Eclipse P600S
CPU: AMD Ryzen 9 5900X
MOBO: Gigabyte X570 Aorus Ultra
RAM: Corsair Vengeance RGB Pro 32GB DDR4 3600Mhz
GPU: Gigabyte Aorus GeForce RTX 3080 Ti MASTER 12GB
PSU: be quiet! STRAIGHT POWER 11 850W
SSD: Samsung 980 PRO NVMe M.2 1TB
SSD: Samsung SSD 850 Evo 250GB
HDD: n/a
OS: Windows 10 Pro 64-bit
DISPLAY: 3x Acer Nitro QG271, 27″, 75Hz
DISPLAY: 1x Asus VS247HR, 24″, 60Hz
HEADSET: beyerdynamic Tygr 300 R
SimRig: SimLab P1-X
Seat: MOMO Lesmo One
Wheelbase: Simucube 2 (SC2) Pro
Steering Wheel: Ascher Racing F28-SC V2, SRB (SimRacingBay) GT3, SRB BB Ultra w/ Fanatec Podium Porsche 911 GT3 R Suede
Pedals: Heusinkveld Sim Pedals Ultimate (3 pedal set)
Shifter: n/a
Handbrake: Fanatec ClubSport Handbrake V1.5
Other: Motedis quad screen stand
Extras: DSD P2 BB