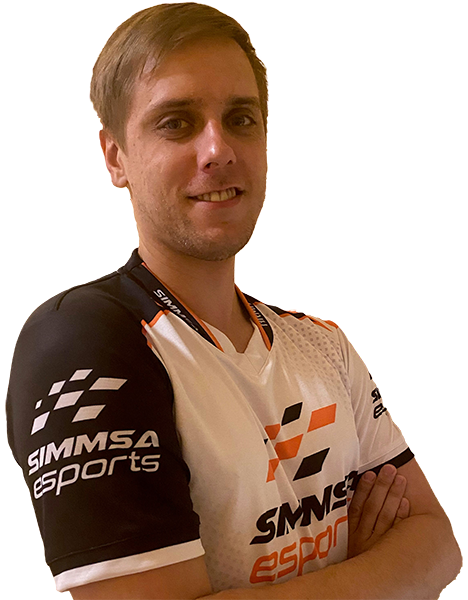 Nickname:
Birthdate: 27th January 1990
Nationality: German
Residence: Germany
Hobbies:
Racing Hero:
Sim titles: iRacing (iR)
Tim was born on January 27, 1990 and is from Germany.
He lives near the Nürburgring, he feels right at home there because of his passion for motorsports. He also spends lots of time at and on the track. He found his way into SimRacing, through motorsports, always wanting to be active in such a sport.
Tim started with RaceRoom back in 2018, and registered in the Rookie Cup organized by RRVGT, his first virtual races! During this time, he learned and educated himself about simulators/ SimRacing titles, and found iRacing, which he switched to at the end of 2018 when they implemented the day & night cycle.
It made it an easy decision for him, as he can race all the time on iRacing that is the difference to other SimRacing titles, where races are organized by hosts or the developers/ publishers, but are not 24/7 like in iRacing. He did complete the Rookie Cup by RRVGT.
He has now completely moved to iRacing, focusing and concentrating on racing on the iRacing service.
2022, Class Winner, Simracing.Center (SRC), NOS Racing, Porsche 911 GT3 Cup (992)
2021, P1, Special Event, iRacing, Sebring 12H, BMW M4 GT3 (top split, timeslot #2, class winner)
2020, P3 in Championship, DENSU ECS 2020, PRO class, Porsche 911 RSR GTE
2020, P3 in Championship, ERO (Endurance Racing Online), Porsche 911 RSR GTE
CASE: Corsair Carbide SPEC-DELTA RGB
CPU: AMD Ryzen 9 3900X
MOBO: Gigabyte X570 AORUS Elite
RAM: G.Skill RipJaws V 32GB DDR4 3200Mhz CL14
GPU: Gigabyte Aorus GeForce RTX 2080 Super 8GB
PSU: Corsair RM850 850W
SSD: Samsung SSD 960 Evo NVMe M.2 500GB
SSD: n/a
HDD: n/a
OS: Windows 10 Pro 64-Bit
DISPLAY: 3x LG UltraGear 27GL63T-B, 1920×1080, 144Hz, G-SYNC
DISPLAY: 1x Asus VG278Q, 1920×1080, 144Hz, FreeSync
HEADSET: HyperX Cloud Flight Wireless Gaming Headset
SimRig: SIMMSA SimRig
Seat: MOMO Lesmo One XXL
Wheelbase: VRS DFP (DirectForce Pro) w/ Q1R
Steering Wheel: FiTech SLI-PRO w/ MOMO Mod. 27 (290mm)
Pedals: Heusinkveld Sim Pedals Sprint (3 pedal set)
Shifter: n/a
Handbrake: n/a
Other: n/a
Extras: Elgato Stream Deck