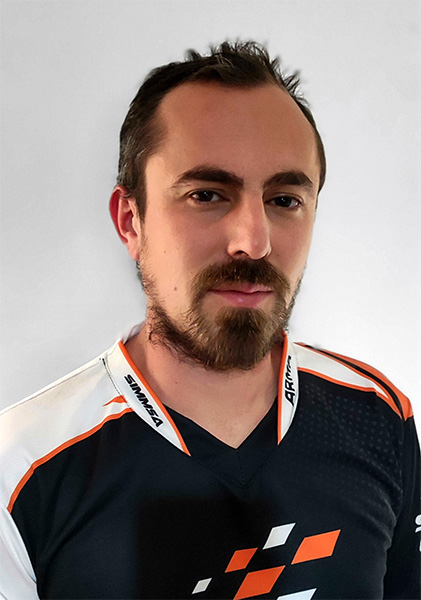 Alexander Walton, iRacing
Nickname:
Birthdate: 17th February 1989
Nationality: German
Residence: Spain
Hobbies: Hiking with his dog and SimRacing
Racing Hero: Michael Schumacher
Sim titles: iRacing (iR), Assetto Corsa (AC), Assetto Corsa Competizione (ACC) and Automobilista (AMS2)
Alexander was born on February 17, 1989 and is from Germany.
He has been a huge F1 fan since his childhood, remembering the battles between Schumacher and Häkkinen.
He joined iRacing in 2017 without previous experience in racing titles and has driven a variety of cars since then and recently finding his passion in the Porsche 911 GT3 Cup car and in the new Dallara P217 LMP2.
2022, P2 overall, Special Event, Daytona 24, iRacing, Dallara P217 LMP2 (split2, timeslot 12:00PM GMT)
2021, Runner-up, Apex Technologies LMP2 Championship, iRacing, Dallara P217 LMP2
2020, Class Winner (split2), main timeslot, Special Event, 24 Hours of Daytona, iRacing, Dallara P217 LMP2
2020, Class overall Winner, IMSA Sportscar Championship S4, iRacing, Dallara P217 LMP2
CASE: n/a
CPU: Intel i7-7700K
MOBO: n/a
RAM: n/a
GPU: GeForce RTX 2080 Super
PSU: n/a
SSD: Crucial P1 M.2 1TB
SSD: n/a
HDD: n/a
OS: n/a
DISPLAY: 3x AOC, 27″
DISPLAY: n/a
HEADSET: n/a
SimRig: SimLab GT1-EVO
Seat: Sparco Rev
Wheelbase: Fanatec CSL Elite
Steering Wheel: Fanatec ClubSport Formula Carbon
Pedals: Heusinkveld Sim Pedals Sprint (3 pedal set)
Shifter: n/a
Handbrake: n/a
Other: n/a
Extras: n/a