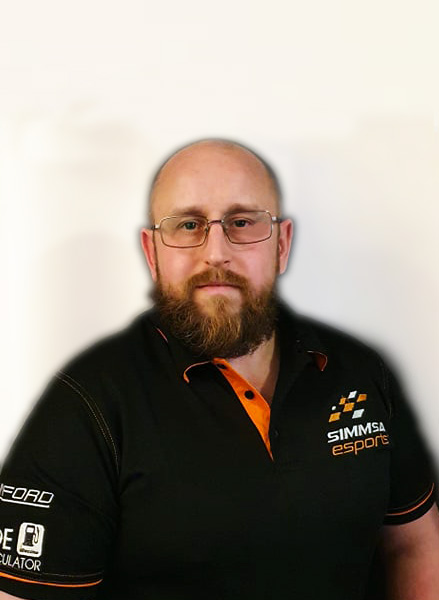 Andreas Schmich, rFactor 2
Nickname: Andy
Birthdate: 29th December 1981
Nationality: German
Residence: Germany
Hobbies: airplanes, food and SimRacing
Racing Hero: Damon Hill
Sim titles: rFactor 2 (rF2)
Andreas was born 1981 in East-Germany and is a huge fan of motorsports since the days of DTM and Formula 1 (early 90`s) and likes to visit the real racing track from time to time.
He started SimRacing in the 90´s, drove in multiple Championships in GTR, GTR2, rF1, rF2 and iRacing. He races mainly on rFactor 2, in different series, events and Championships.
Occasionally he does race on the iRacing service, only in Special Events.
He is always up for a joke and keep the team in a great laughing mood on TeamSpeak.
Born behind the Wall, didn't grow so tall, now racing till I die BUTTERFLY!
2022, 11th GTE class, Le Mans Virtual Series (LMVS) 2021-2022, rF2, Ferrari 488 GTE
2021, Overall Winner, rF2LN Season 2020/21, rF2, Porsche 911 GT3 Cup
2021, Cup2 Class Winner, rF2LN Special Event, 24H Nürburgring, Cup2 Class, rF2, Porsche 911 GT3 Cup
2017, rF2, SRC GT Champion
2016, rF2, ISEC GTE Champion
2012, rF2, 2nd place, 24H NOS
2011, rF2, 3rd place, 24H NOS
2010, rF2, 2nd place, Simrace.tv 24H Le Mans
2009, rF2, Championship Winner, GMSL DTM
CASE: n/a
CPU: AMD Ryzen 7 5800X
MOBO: Gigabyte X570 AORUS Elite
RAM: G.Skill Ripjaws V Black 16GB DDR4 3600Mhz
GPU: Nvidia GeForce GTX 1060 Ti 6GB
PSU: Xilence 750W
SSD: Western Digital Black SN850 NVMe M.2 1TB
SSD: Samsung 500GB
HDD: Seagate 2TB
OS: Windows 10 Pro 64-Bit
DISPLAY: 3x HannsG, 27″
DISPLAY: 1x DDU Display, 5″, HDMI
HEADSET: Corsair VOID Pro
SimRig: SimRig DIY aluminium extrusion profiles

Seat: bucket seat
Wheelbase: Fanatec ClubSport V2.5
Steering Wheel: Fanatec ClubSport Universal Hub w/ Fanatec ClubSport GT rim
Pedals: Fanatec ClubSport Pedals V3 w/ Brake Performance Kit
Shifter: n/a
Handbrake: n/a
Other: n/a
Extras: DIY WindSim