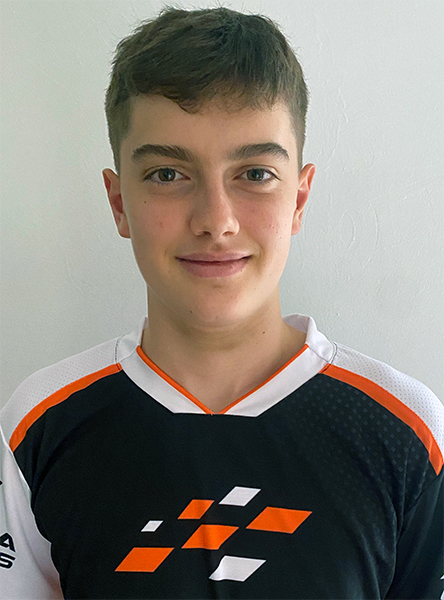 Nickname: n/a
Birthdate: 12th June 2006
Nationality: German
Residence: Germany
Hobbies: karting
Racing Hero: Ayrton Senna
Sim titles: iRacing (iR), Assetto Corsa (AC), pCARS (series)
Fabio was born on June 12, 2006 in Germany. 2012 he was enrolled in primary school and one year later he started indoor karting, where he discovered his passion for motorsport.
One year later he bought his first race kart (mini category) and in 2015 he drove his first races.
Secondary school started 2016, in 2018 he got into OK Junior category and in 2020 he started to race in the OK Senior category.
2022, P2 in class, Special Event, Daytona 24, iRacing, Lamborghini Huracán GT3 EVO (split4, timeslot 12:00PM GMT)
2021, P3, BMW Sim GT Cup, Silverstone, iRacing, BMW M8 GTE (split2)
2020, first OK Senior year
2019, DJKM P10 in Championship
2018, first OKJ year, ADAC Kart Academy winner, P19 first WSK race (final Cup Lonato, Italy)
2014-2017, mini category, top 5 results in ADAC Kart masters and ADAC WAKC
CASE: Sharkoon TG5 Pro RGB
CPU: AMD Ryzen 7 5800X
MOBO: Gigabyte B550 Aorus Pro V2
RAM: Corsair Vengeance RGB Pro 16GB (2x8GB) 3600MHz
GPU: MSI GeForce RTX 3080 Gaming Trio Z
PSU: Seasonic focus PX-850 80+ Platinum
SSD: 1x Innovation-IT 256GB
SSD: Samsung NVMe M.2 1TB
HDD: n/a
OS: Windows 10 Pro 64-Bit
DISPLAY: 1x Samsung CRG9, 49″, 5120×1440, 32:9, 120Hz
DISPLAY: n/a
HEADSET: HyperX Cloud II Wireless
IN-EAR: n/a
MIC: n/a
SimRig: SimLab P1-X
Seat: Sparco Circuit II QRT
Wheelbase: Simucube 2 (SC2) Sport w/ RaceX Xero Play QR
Steering Wheel: Precision Sim Engineering LM-PRO
Pedals: Heusinkveld Sim Pedals Ultimate (2 pedal set)
Shifter: n/a
Handbrake: n/a
Other: SimCore DS1, DIY WindSim
Extras: steering wheel extension piece, 50mm