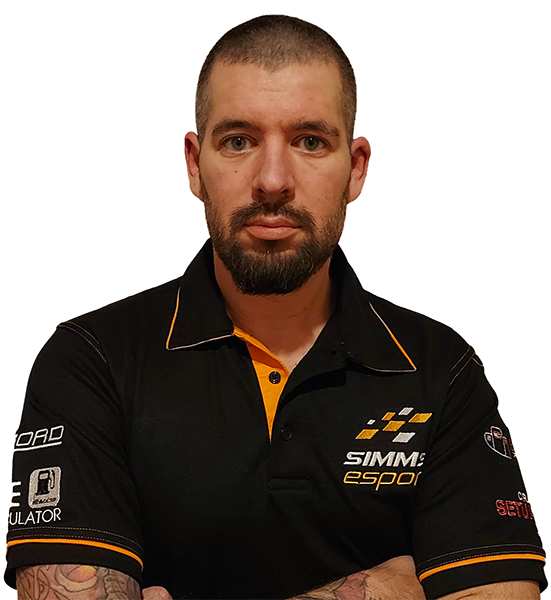 Gerhard Lindauer, rFactor 2
Nickname: GL-Designs
Birthdate: 19th December 1981
Nationality: Austrian
Residence: Niederösterreich
Hobbies: Painting and racing
Racing Hero: Gerhard Berger
Sim titles: rFactor 2 (rF2), iRacing (iR), Assetto Corsa (AC) and Assetto Corsa Competizione (ACC)
Gerhard was born on December 19, 1981 and is from Vienna/ Austria. Working in the sports-turf industry and is married.
His first contact with racing games at the age of 6 on Commodore C64, first PC games, Gran Turismo series al the way to Gran Turismo 6 on the PlayStation.
2013 he started with RaceRoom, racing online from 2014, 2016 mainly rFactor 2 starting for MRS-SimRacing and since 2019 for SIMMSA Esports in rFactor 2.
He has been painting liveries since 2017 as GL-Designs.
2021, Overall Winner, rF2LN Season 2020/21, rF2, Porsche 911 GT3 Cup
2021, Cup2 Class Winner, rF2LN Special Event, 24H Nürburgring, Cup2 Class, rF2, Porsche 911 GT3 Cup
2020, Drivers' Championship, rF2, P1M2C (P1-Gaming e.V.), BMW M2 Cup
2020, Team Championship, rF2, P1M2C (P1-Gaming e.V.), BMW M2 Cup
2019, VEC Champion, rF2, Division III GTE, Season 11
2018, one win and multiple podium results, rF2, GT Masters at Simrace Community
2017, multiple podium results, AC, Porsche Cup
2017, P2, iRacing, Special Event, 24H Daytona
2017, multiple podium results, rF2, Simracing United GT Pro Series
2016/2017, multiple wins and podium results, rF2, International Simracing Endurance Championship, GTE class
2016, P2 in class, rF2, 12H of Sebring
2016, Team and Drivers' Championship, R3E, RRVGT DTM'92 Series
2016, Finalist, R3E, Official DTM Winter Series
CASE: XPredator Big Case Green
CPU: Intel i7-4790K
MOBO: MSI Z97 GAMING 3 (MS-7918)
RAM: HyperX Fury 16GB (2x8GB) 1866Mhz
GPU: Nvidia RTX 2080
PSU: n/a
SSD: Samsung 850 Pro 256GB
SSD: n/a
HDD: No Name 2TB
OS: Windows 10
DISPLAY: 3x 27" BenQ LED
DISPLAY: n/a
HEADSET: Lioncast LX55-USB
SimRig: Simetik K2
Seat: Beltenick bucket seat
Wheelbase: Simucube 2 (SC2) Pro
Steering Wheel: Ascher Racing F28-SC V1
Pedals: Fanatec ClubSport Pedals V3 with Racecore24 brake mod prototype
Shifter: n/a
Handbrake: n/a
Other: Elgato Stream Deck
Extras: n/a