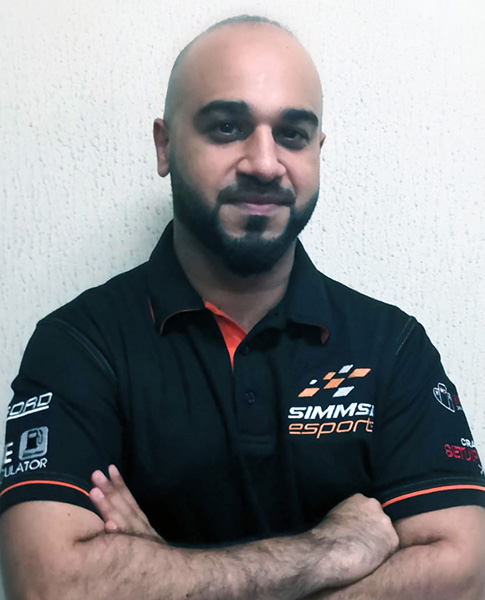 Haitham Abdelkader, iRacing
Nickname: Haitham
Birthdate: 05th April 1986
Nationality: Egyptian
Residence: Dubai, UAE
Hobbies: composing Music, Video editing, Soccer
Racing Hero:
Sim titles: rFactor 2 (rF2), Assetto Corsa (AC), Automobilista 2 (AMS2) and iRacing (iR)
Haitham was born on April 5, 1986 and is from Egypt.
He has been SimRacing since 2013, currently he competes in iRacing and ACC series, although casually racing with Gran Turismo since 1997. His very first experience with online competitions started with Project CARS on the PlayStation 4, in 2015 with REG (Race Event Group). He quickly moved on to the PC platform, where SimRacing has a broader spectrum of possibilities in regards to hardware, Sim titles, communities and racing Esports competitions.
Haitham wants to be able to one day in the future drive on the legendary Nordschleife in Germany.
2018, RRVLN, P3, BMW 235i Racing Cup
2018, 3rd overall, McLaren Shadow Project Middle East Finalist
CASE: Lian Li O11 Dynamic XL
CPU: AMD Ryzen 9 5950X (Zen 3)
MOBO: Asus Prime X570-P
RAM: 32GB DDR4 3200Mhz
GPU: MSI Suprim GeForce RTX 3080 10GB
PSU: Corsair HX850 850W
SSD: Samsung Evo 500GB
SSD: n/a
HDD: Seagate Barracuda Hybrid 2TB
OS: Windows 10 Pro 64-Bit
DISPLAY: 3x AOC CQ32G1, 31.5″, 2560×1440, 144Hz
DISPLAY: 1x HP V270, 27″, IPS, 1920×1080
HEADSET: Sennheiser G4me One
SimRig: SIMMSA SimRig Proto2020
Seat: Sparco Sprint L
Wheelbase: SRB Simucube1 (SC1) based OSW kit Biss-C w/MiGE 130ST-M10010
Steering Wheel: Ascher Racing, SRB BB Ultra and converted Ferrari 599XX EVO 30
Pedals: Heusinkveld Sim Pedals Sprint (3 pedal set)
Shifter: Thrustmaster TH8A Add-On
Handbrake: n/a
Other: n/a
Extras: n/a