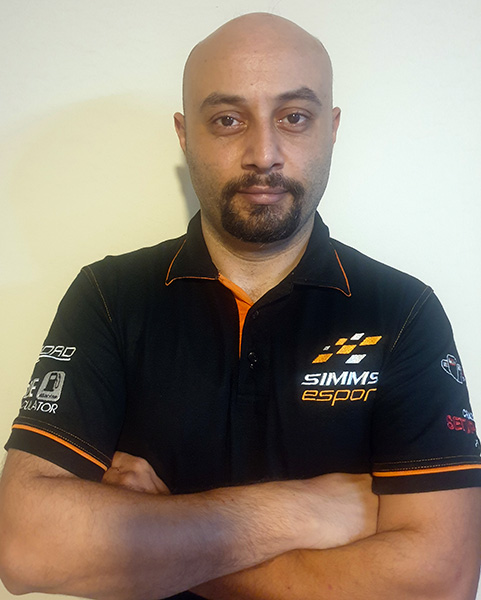 Jamal Ghandour, Business Development
Nickname: Shlagem
Birthdate: 17th January 1983
Nationality: Lebanese
Residence: Beirut, Lebanon
Hobbies: building computers, gaming, Karting, geeking and SimRacing
Racing Hero: Ayrton Senna
Sim titles: iRacing (iR), Automobilista 2 (AMS2), Assetto Corsa Competizione (ACC) and rFactor 2 (rF2)
Jamal was born on January 17, 1983 and is from Lebanon.
He is an avid SimRacer and real-life racer. His nickname is "Shlagem" the Lebanese rocket (dates back to 1996 GP2 era, his nickname is based on a cat name which does not have any meaning whatsoever).
He is a clean, intelligent and consistent race driver. He holds a Master's degree in Biology, is a Certified Programmer, is a teacher his daily life and is the founder of Sim Racing Middle East (SRME), a community platform to bring SimRacers together from the GCC (Gulf Cooperation Council) and MENA (the Middle East and North Africa).
Jamal worked as a consultant to SIMMSA during the McLaren Shadow Project competitions and Esports management in 2018 and 2019. He is a member of the Lebanese Esports Committee, Expert in SimRacing Hardware consultancy and solutions provider. He builds racing simulators and optimizes them.
3rd Nissan GT Academy 2013 Regional
Finalist Nissan GT Academy 2014 International
3rd in the "24Hours of Spa; iRacing" in 2016 with KB Motorsports in the BMW Z4 GT3
Winner "Gran Turismo 6" National Competition by KFC in 2014
Winner "Gran Turismo 3: A-Spec" Game Launch Competition by Virgin Megastore in 2001
Podium finishes in Sodi World Series (SWS)
CASE: Phanteks Enthoo EVOLV ATX TG
CPU: Intel i9-9900K
MOBO: Asus Maximus XI Hero
RAM: Corsair Vengeance RGB 32GB (2x16GB) DDR4 3200Mhz
GPU: MSI RTX 3080 Gaming X Trio 10GB
PSU: Corsair CX750
SSD: 1x Samsung SSD 960 Evo NVMe M.2 500GB
SSD: 1x Samsung SSD 850 Evo 2.5″ 250GB
HDD: 2x Seagate BarraCuda ST1000DM003 1TB
OS: Windows 10 Pro 64-Bit
DISPLAY: 3x Dell S2716DG, 27", 2560×1440, 144hz, G-SYNC
DISPLAY: 1x TV, 32", 1920×1080, 60hz
HEADSET: Thrustmaster T.Racing Scuderia Ferrari Edition
SimRig: SimLab P1-X with JCL-SimRacing quad monitor stand
Seat: Recaro Pole Position
Wheelbase: VRS DFP (DirectForce Pro) w/ Q1R
Steering Wheel: AS-SimDesign MOMO Mod. 27/C and Fanatec Clubsport Formula Black w/ SRM conversion
Pedals: Heusinkveld Sim Pedals Sprint (3 pedal set)
Shifter: DSD short-throw, modded TH8A gated
Handbrake: Arduino DIY progressive handmade
Other: DSD Race King BB, Ignition Controls BB, custom-made BlackBox MK9 Pro BB
Extras: M-spec shift light