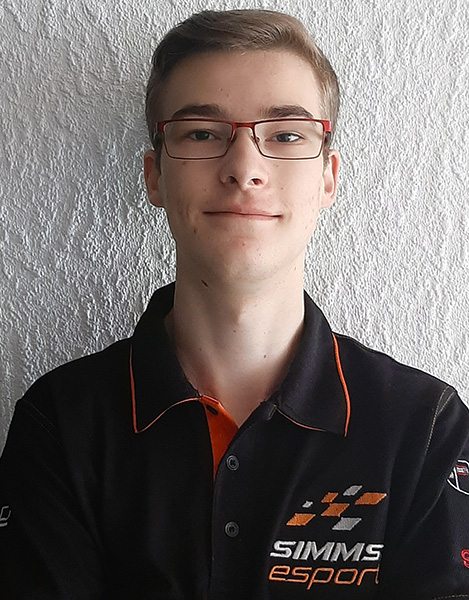 Nickname:
Birthdate: 07th December 2000
Nationality: German
Residence: Aachen, Germany
Hobbies: SimRacing, visiting Motorsport events and watching movies
Racing Hero: Mattias Ekström
Sim titles: iRacing (iR), RaceRoom (R3E) and Assetto Corsa Competizione (ACC)
Julian was born on December 7, 2000 and is from Germany.
The switch from Project CARS 2 to RaceRoom Racing Experience in the early stages of 2018 was the crucial step for Julian into the SimRacing world.
After gaining more and more experience in the environment of the RRVGT Community, he found the SimRacing team Full Throttle Nation together with two friends in order to compete in the RRVGT-WEC NA&AUS Tour, which was just the first of several Championships for him and the team.
For the 24H Nürburgring weekend in May 2018 Julian exclusively joined the Spanish team Churi eSports to compete in the On Site Nürburgring 4H Team Endurance Challenge. Reinhart and Full Throttle Nation began to start looking for new challenges in 2019 and as a result came to iRacing with the goal of going for the endurance races.
However, the team suffered increasingly from inactivity, he then moved to T3 eSports and after one season of GSR Masters with T3, he joined SIMMSA Esports and is looking for the new challenges ahead.
2022, P6 GT4 class, Special Event, Nürburgring 24, iRacing, BMW M4 GT4 (top split, timeslot 12:00PM GMT)
2022, P2 in class, Special Event, Daytona 24, iRacing, Lamborghini Huracán GT3 EVO (split4, timeslot 12:00PM GMT)
2018 RRVGT-WEC, NA and AUS Tour, FTN, WTCC 2017
2018/ 2019, RRVGT3, FTN
2018 RRVLN, WTCR
2018 RaceRoom 4h Team Endurance Challenge Nürburgring, Churi eSports, GT3
2019/ 2020, GSR Masters, AM, T3 eSports
CASE: Aerocool RGB Gaming-Tower SHARD
CPU: AMD Ryzen 5 3600X 6x 4.4GHz
MOBO: Asus ROG STRIX B450-F Gaming, AMD B450
RAM: 16GB DDR4 3200Mhz
GPU: Nvidia GeForce RTX2060 Super 8GB, Gainward Ghost
PSU: Seasonic Core GC-650 Gold, 650W
SSD: Kingston A2000 NVMe M.2 500GB
SSD: n/a
HDD: SATA3 1TB
OS: Windows 10 Pro 64-Bit
DISPLAY: 1x MSI Optix MAG341CQ, 34″, 3440×1440, 100Hz
DISPLAY: 1x Samsung S22B350H
HEADSET: Beexcellent
SimRig: n/a
Seat: office chair
Wheelbase: Thrustmaster TS-PC Racer
Steering Wheel: Thrustmaster Open Wheel Add-On
Pedals: Fanatec ClubSport Pedals V3 w/ Brake Performance Kit
Shifter: n/a
Handbrake: n/a
Other: n/a
Extras: n/a