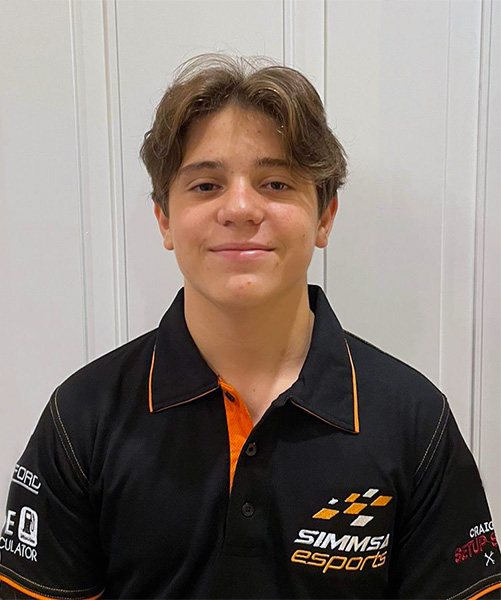 Keanu Al Azhari, ❌ inactive ❌
Nickname:
Birthdate: 14th November 2007
Nationality: UAE
Residence: Dubai, UAE
Hobbies:
Racing Hero:
Sim titles: iRacing, rFactor 2 (rF2) and Assetto Corsa Competizione (ACC)
Keanu was born on November 14, 2007 and is residing in the UAE.
Keanu Al Azhari has already been racing full time the past 6 years, and he is just 12 years old. Born in Dubai, he has won the UAE karting championships since his first attempt, and went on to get top results in World Finals and Top Rated Karting Championships including WSK, FIA European Championship, FIA World Championship where he now drives for FA by DPK in OKJ.
SimRacing has always complemented his training program, so Keanu is thrilled to be welcomed in the Young Driver (Development) Program of SIMMSA Esports with Peter Klawitter's personal guidance.
2020, SRKC S1 Championship (Dallara F3, iRacing) P26
CASE: Phanteks Eclipse 600S
CPU: Intel i9-9900KF
MOBO: Gigabyte Z390 Aorus Pro
RAM: G.Skill Ripjaws V 32GB (2x16GB) DDR4
GPU: Zotac RTX 2080Ti AMP Extreme
PSU: EVGA SuperNOVA 850W P2
SSD: Samsung 970 Pro NVMe M.2 512GB
SSD: Samsung 860 EVO 2.5" 1TB
HDD: n/a
OS: Windows 10 Pro 64-bit
DISPLAY: 3x 32" LG 32GK850G-B
DISPLAY: 1x 32" Viewsonic VX3276-MHD-2
HEADSET: SteelSeries Arctis 3 (2019 Edition)
SimRig: SIMMSA SimRig GT
Seat: Recaro bucket seat
Wheelbase: Simucube 2 (SC2) Pro w/ Q1R
Steering Wheel: Ascher Racing F64-USB V1 w/ Q1R
Pedals: Heusinkveld Sim Pedals Ultimate (3 pedal set)
Shifter: Heusinkveld Sim Shifter Sequential
Handbrake: Heusinkveld Sim Handbrake
Other: SimCore DDU, SRS WindSim, DSD Race King BB
Extras: Fanatec ClubSport Shifter SQ V1.5