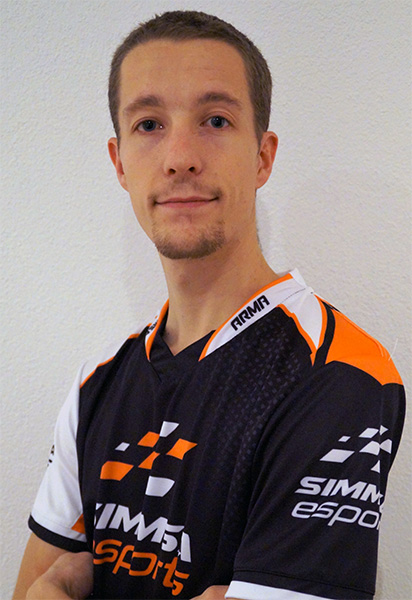 Lars Baumeler, ❌ inactive ❌
Nickname:
Birthdate: 22nd December 1993
Nationality: Swiss
Residence: Bern, Switzerland
Hobbies: SimRacing and Motorsport
Racing Hero: Ayrton Senna and Lewis Hamilton
Sim titles: iRacing (iR)
Lars was born on December 22nd, 1993 in Bern.
He was an enthusiastic car fan from early on. In 2010 he started SimRacing with Race 07, then in 2013 he started his own motorsport career.
First a few years in Switzerland with slalom and hill climb races, then in 2018 Lars started in a Formula BMW at the Formula Remus Cup.
He won this one, from that race on he received various offers from teams, but his budget was insufficient.
From 2019 onwards he has concentrated fully on SimRacing (iRacing).
2022, P6 GT4 class, Special Event, Nürburgring 24, iRacing, BMW M4 GT4 (top split, timeslot 12:00PM GMT)
2021, P1, Championship Winner, Winter GreenHELL, Gesamtstrecke VLN, Porsche 718 Cayman GT4 Clubsport
2018, 1st, Formula Remus Cup (Formula BMW), #47
CASE: InWin 303 Midi-Tower MSI Dragon Edition
CPU: AMD Ryzen Threadripper 2950X 16-Core 3.50GHz
MOBO: MSI X399 SLI Plus
RAM: G.Skill Trident Z RGB 32GB (4x8GB) DDR4 3000Mhz
GPU: Gigabyte GeForce RTX 2070 Windforce 8GB
PSU: Corsair RM 750x 750W
SSD: Samsung 970 Evo Plus 1TB
SSD: n/a
HDD: n/a
OS: Windows 10 Home 64-Bit
DISPLAY: 3x 32″ LC Power Curved WQHD
DISPLAY: n/a
HEADSET: Sennheiser GSP 301
SimRig: JCL Fury V3
Seat: Top Seat SimRacing
Wheelbase: Simucube 2 (SC2) Pro
Steering Wheel: Rexing Formula Mayaris, Cube Controls Formula and Fanatec BMW GT2
Pedals: Heusinkveld Sim Pedals Sprint (3 pedal set)
Shifter: n/a
Handbrake: n/a
Other: n/a

Extras: n/a