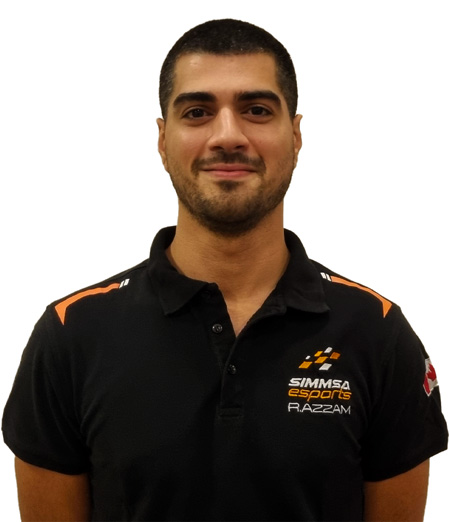 Nickname: Razzayum
Birthdate: 09th July 1991
Nationality: Canadian
Residence: Dubai, UAE
Hobbies: Racing, consoles, SimRacing, Karting and swimming
Racing Hero: Michael Schumacher
Sim titles: iRacing (iR), Assetto Corsa Competizione (ACC) and rFactor 2 (rF2)
Ramez was born on July 9, 1991 and is from Canada.
With many years of racing under his belt and being super quick around tracks, Ramez is a fantastic driver to join our ranks. Most impressive is the fact that Ramez only joined SimRacing few months ago and he is climbing the SimRacing ranks quickly!
Ramez' motorsports career began in 2007, with SWS leisure karting leading to the Rotax Max Challenge UAE Senior, in which he ended the season second. This was followed up by 10 races in the Formula Renault Campus France, with 2 podiums and a pole position to show for his time in the car. This was the start of a 3 year spell in cars from the French manufacturer, with appearances in the 24H Series Clio Cup class, and seasons in the Formula Renault 2.0 in both the Eurocup and WEC for 2008-09.
Following this Ramez had a quiet few seasons, with appearances in the 2009 Speedcar Series, 2011-12 Maserati Trofeo JBF RAK, and the Gulf Radical Cup. Ramez then competed in the WGA Supercars Middle East Championship, finishing 2nd overall with 3 wins and 6 pole positions.
Ramez competed only in Karting for the next few years, winning the SWS World Finals twice with Batelco Racing, as well as the Dubai Endurance Championship (Pro & Overall class) a total of 7 times. After 6 years being out of a racing car, Ramez then had the chance to race in Lamborghini Super Trofeo Middle East Championship in 2019 in the Pro-Am class, scoring a 100% record with 6 wins out of 6 races.
He is also a certified Class A driving instructor in the UAE and has been active coaching drivers of various skills since 2010. He frequently works for locally based racing teams Dragon Racing and Xcel Motorsport as a driver coach and is always active on track in many different classes of cars.
Ramez, based in Dubai has only recently taken to SimRacing and is proving himself already!
2022, P2 overall, Special Event, Daytona 24, iRacing, Dallara P217 LMP2 (split2, timeslot 12:00PM GMT)
2022, 11th GTE class, Le Mans Virtual Series (LMVS) 2021-2022, rFactor 2, Ferrari 488 GTE
2020, 2nd, April Isolation F3 Championship, iRacing
2019, Lamborghini Super Trofeo Middle East – Champion Pro-Am Class
2017 and 2013, SWS Endurance World Champion
2012, WGA Supercars Middle East Championship – SC09 – Vice Champion
2009, Formula Renault 2.0 WEC
2008, Formula Renault 2.0 Eurocup & WEC
2007, Formula Renault Campus Elf
CASE: Fractal Design Define 7 Compact
CPU: Intel Core i9-10850K
MOBO: Asus ROG Strix Z490-H Gaming
RAM: Corsair Vengeance RGB Pro 32GB (2x16GB) DDR4 3600MHz
GPU: MSI GeForce RTX 3080 VENTUS 3X OC 10GB
PSU: Corsair RM Series RM850 850 Watt
SSD: Crucial MX500 NVMe M.2 1TB
SSD: n/a
HDD: n/a
OS: Windows 10 Pro 64-Bit
DISPLAY: 3x AOC Q27G2, 27″, 2560×1440, 144Hz, Adaptive Sync
DISPLAY: n/a
HEADSET: SteelSeries Arctis 1 Wireless
SimRig: SimLab P1-X
Seat: OMP Design 2
Wheelbase: VRS DFP w/ Q1R
Steering Wheel: Cube Controls Formula CSX 2 w/ Q1R and Fanatec ClubSport Formula V2 w/ Q1R (converted)
Pedals: Heusinkveld Sim Pedals Sprint (3 pedal set)
Shifter: n/a
Handbrake: n/a
Other: DSD P2 BB
Extras: n/a